Dstv e48-32 , there is no signal due to bad weather or a faulty connection hot to fix and clear FORUM
Dstv e48-32 error, do you have the same error on your TV like me, i am sure you are looking for a way to solve this problem with this dstv error you wont be able to view channels on your dstv decoder or Explora.. i have attached a picture to show you how the error will look like on your TV screen but by now you should know.
What can we do to solve or fix this type of problem.
I will help assist you on some issues in this topic ,  but first of all do you know what this error means,  i will explain in my next paragraph
Dstv e48 32 is more like a code used by dstv to show that there is a fault and the decoder is not getting any signal from the satellite dish . Error is caused by many issues, but it doesn't mean that there is rain so you got this error.
post your comments here and i will give you more information on how to try resolve this issue.
This is an e48-32 blog, click on the link to go and find out more on how to solve this problem . We have highlighted all the information needed about this kind of problem.
Post your comments here and we shall reply back with some help or other users and dstv subscibers will help you.

Error e4-83, No signal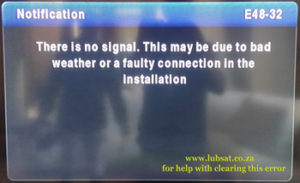 Notification   E48-32
There is no signal this may be due to bad weather or a faulty connection in the installation.
Posts on error e48-32  dstv from other users
Multichoice dstv recommends the use of a Dstv accredited installer to rectify home dstv installations  call us today ~ 0110541680